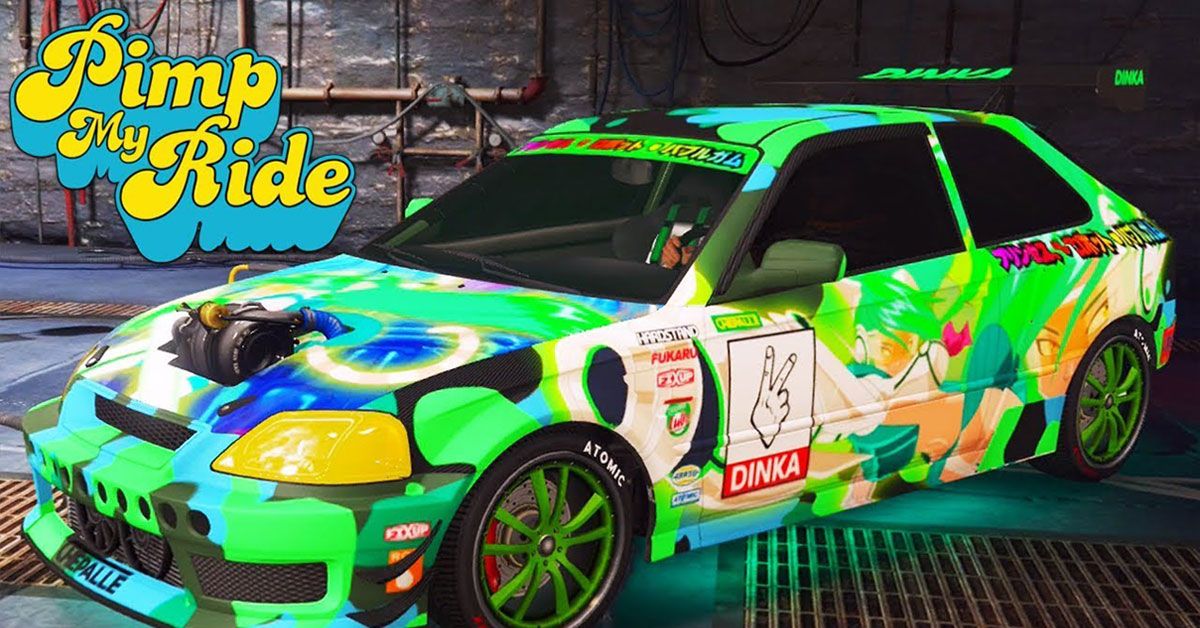 When MTV's hit show Pimp My Ride first hit the airwaves in 2004, reality TV was in its golden age, and it seemed like viewer appetites for more and more ridiculous and outlandish reality content would never be satiated. Right around this time, a subgenre of new reality shows focusing on the automotive industry (Monster Garage, American Chopper, Ride with Funkmaster Flex, and others) began surging in the ratings. But Pimp My Ride immediately stood out from the pack, and over the course of its six seasons, would end up becoming one of the most popular properties in MTV history.
The premise: a young person living in Los Angeles or the environs would videotape a plea for MTV to "pimp my ride" (that is, customize their clunker), whereupon the show's loveable host, the rapper Xzibit, would surprise them at their home, take their car to a talented and charismatic cast of car restorers, and return the vehicle with the most insanely outrageous personalized modifications viewers had ever seen. With its entertaining personalities and wild visual imagination, Pimp My Ride had hit upon a winning formula and quickly expanded into a global franchise.
Alas, all good things come to an end, and by 2007, the reality car show bubble had burst. Amid waning viewer interest and a volatile economic climate that made the excesses of shows like Pimp My Ride seem gauche, MTV pulled the plug. Little did anyone know then that the series wouldn't go gentle into that good night, though—within the next few years, former car owners featured on the show would take to Reddit to spill behind-the-scenes secrets of fakery and shoddy craftsmanship, and then a 2015 HuffPost piece blew the lid off the show's chicanery once and for all. As for the show's cast, they, too, would meet with infamy: Xzibit would swiftly go bankrupt; West Coast Customs owner Ryan Friedlinghaus would come under federal investigation; interior restorer Ishmael "Ish" Jimenez would disappear off the face of the earth; and many other tales of woe. What goes up, indeed, must come down.
Ever wondered where the cast of Pimp My Ride is now? Here's what happened to some of the show's main characters.
Xzibit: Rapper Turned Marijuana Mogul?
Out of all of Pimp My Ride's colorful cast of characters, Xzibit (the stage name for Detroit-born Alvin Joiner) was the scene-stealing star of the show. Xzibit had taken the hosting gig just as his once wildly successful rap career was starting to stagnate, and his massive popularity with MTV viewers suddenly jettisoned him back to the forefront of pop culture.
To his credit, Xzibit never seemed to let it all go to his head: fellow cast members and contestants on the show have unanimously reported the musician was a pleasure to work with, charming everyone on set with his amiable nature and lively sense of humor. But it turns out that behind the scenes, the Pimp My Ride experience was no bed of roses for poor Xzibit. In a 2018 interview, the TV personality explained he felt mistreated and underappreciated by MTV and was never cut into the show's profits. But things were about to get even worse.
Even as he tried to parlay his television success into a film acting career, in 2008, just a year after Pimp My Ride was canceled, Xzibit's newborn son passed away, making it impossible for him to put his heart into his work. His income in 2008 was reportedly a meager $67,510 (as compared to a cool half a million dollars when he was on the show); after trying (and failing) to file for bankruptcy twice, by the end of 2010, he owed nearly $1 million in delinquent taxes.
As he tried to put his life back together in the years that followed, Xzibit tried his hand at entrepreneurship a few times, but that, too, would go down in flames: the Brass Knuckles cannabis company he founded with Dr. Dre would end up getting hit with two major lawsuits and the company would dissolve acrimoniously.
It might have seemed like the end of the line for the former Mr. X-to-the-Z—but our hero ended up having a surprise rebound. He returned to the rap game in 2012 with the successful album Napalm, which launched a global record tour; his acting abilities were met with critical acclaim when he got a recurring role on the hit series Empire in 2016; and then, in 2018, Xzibit posted a picture on Instagram of a receipt for paying off the last of all those back taxes. This brings us up to 2020, which finds Xzibit back in the news again, this time promoting his new, controversy-free, far more successful cannabis company, Napalm (named after that 2012 album). And that's not all: Xzibit the rapper is making a comeback, too—public health protocols permitting, next year the now-46-year-old will perform as part of the "Heart of Hip Hop" tour alongside the likes of E40 and Fat Joe.
RELATED: What's Real And Fake On MTV's Pimp My Ride
Ryan Friedlinghaus: Has He Changed His Tyrannical Ways?
Ryan Friedlinghaus, the heavily tattooed founder and CEO of West Coast Customs—the shop featured on Pimp My Ride for its first four seasons—also faced adversity after leaving the show, though unlike the unlucky Xzibit, Friedlinghaus's hard times were of the self-made variety. Friedlinghaus had bowed out of the show after the fourth season, reportedly dissatisfied with the clown-like creations MTV was forcing his shop to produce and worried that the show was negatively affecting West Coast Customs' reputation.
He immediately began hosting another automotive reality show for a rival network, so one might think the coast to his continued success was clear. But it turns out you reap what you sow, and apparently, Friedlinghaus was about to pay the price for his exploitative labor practices. Former employees began leaking reports to the press that this maniacal micromanager forced them to work 12-hour shifts, fostered a toxic and verbally abusive work environment, and hired undocumented immigrants who he could pay cheaply and under the table—if he paid at all.
In 2014 the Department of Labor found West Coast Customs paid its employees well under the minimum wage from 2010–2013 and illegally hired them as independent contractors when they should have been salaried employees—Friedlinghaus had to dole out $157,592 in back pay to his workers, not to mention tens of thousands of dollars more in penalties.
But apparently, for Friedlinghaus, the whole affair was but a minor hiccup on his quest for global expansion. West Coast Customs has gone on to feature in a panoply of popular reality shows (the latest venture being West Coast Customs: Under the Hood, now streaming on Facebook Watch), opened a franchise in Dubai with similar deals being explored in Asia and Europe; and designed a roller coaster for Six Flags, Great America. Even after the coronavirus pandemic shut down most of the country, Friedlinghaus could not be stopped: he launched a series of virtual car customization and restoration classes earlier this year.
But the real question is, did Friedlinghaus learn his lesson and reform his tyrannical ways? Unfortunately, it would seem the answer is no: several recent employee reviews of West Coast Customs posted on Indeed.com complain of low pay, late pay, unpaid overtime, and vengeful management.
Quinton "Q" Dodson: Will He Ever Find Lasting Success?
Oh, the many vagaries of the life of Quinton "Q" Dodson, sales manager for West Coast Customs, and a central cast member on Pimp My Ride until he left the show after the third season. Long Beach–native Dodson was working as a beer truck driver and delivery man who happened to unload his boxes of brew at the liquor store owned by the father of Friedlinghaus, who was working there at the time. The two struck up conversation and realized they shared a joint passion for car customization, and decided to go into business together on West Coast Customs—and the rest is history.
Dodson stuck around with West Coast Customs for a while even after leaving Pimp My Ride, then struck out on his own, trying his hand at a number of endeavors: he ran a shipping company called Road Rage Transportation, helmed a now-shuttered customization shop of his own in Los Angeles called Coast II Coast Customz, and more recently, did some reporting for All Ends automotive magazine.
Apparently, none of these ventures took off, however, and according to his Instagram (where Dodson goes by the handle @ridepimp), he's started yet another endeavor, this time as co-owner of the Canada-based brand HR Headlight Restoration, a "mobile dealership business for restoring headlights." A Google search of the company reveals little more than a website proclaiming that they would soon open in California under Dodson's management, and prominently featuring him as their spokesperson—along with urgent appeals to internet users to sign up to become dealers for their product, promising too-good-to-be-true annual earnings of up to $100,000 (they've also plastered the call all over Craigslist in various US cities). There's no HR Headlight Restoration listed with the Better Business Bureau, however, and its California outpost seems to be indefinitely delayed.
RELATED: The 10 Coolest Cars From Pimp My Ride
Michael "Mad Mike" Martin: A TV Career Resurrection?
Beloved electronics whiz Michael "Mad Mike" Martin was one of the very few Pimp My Ride cast members to make it through all six seasons: when West Coast Customs bailed on the show after season 4, Martin switched horses and signed on at Galpin Auto Sports, which was featured in seasons 5 and 6. Mad Mike was so popular among viewers, MTV even made him co-host of the Spanish-language version of Pimp My Ride, called Pimpeando, in 2006. And it seems he may be the only cast member to have emerged from the whole MTV experience relatively unscathed, with nary a federal investigation, tax scandal, or ties to a shady MLM company to be found.
Since Pimp My Ride ended, Martin has peacefully stayed on at Galpin, where he's continued to be featured in a number of reality TV shows, including Driven, currently airing on the Discovery channel. In 2016, he was inducted into the Diecast Hall of Fame as an "automotive legend." Martin's Instagram is filled with cheerful pictures of himself by the pool or at the racetrack. If only his fellow cast members had been so lucky.
NEXT: 20 Things About Pimp My Ride We Literally Just Found Out
KTM Unveils Full Carbon Fiber X-BOW GTX Race Car With Jet Fighter Canopy
About The Author