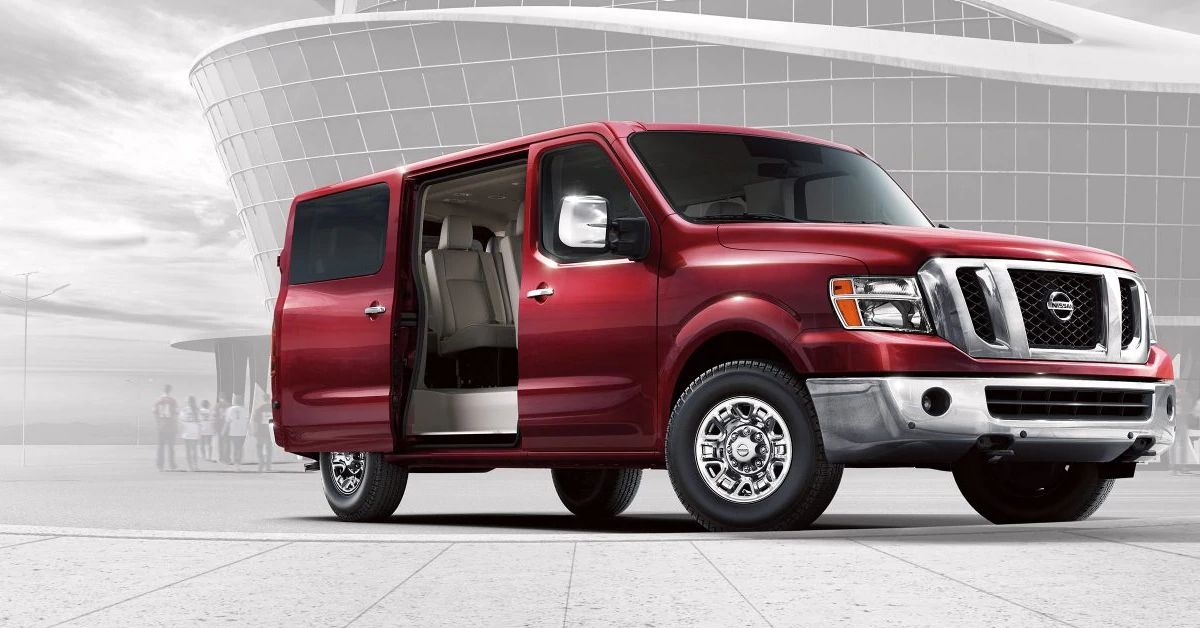 Cargo vans have their own weird market in North America. Due to a post-war squabble between US chicken farmers and European exporters, auto manufacturers face a 25% tariff on any light-duty commercial vehicle imported into the United States or Canada. This includes pickup trucks, light-duty machinery, and, crucially, cargo vans.
So, since then, American carmakers developed their own vans for their own market, competing to build the buffest, toughest, most durable, and most capable cargo vans they can. This, inevitably, caused the van market to stagnate by the turn of the millennia. American vans were desperately out of date – the Chevy Express van, which you can still buy new in 2020, is the last vehicle on sale that still uses sealed beam headlights – so manufacturers started getting crafty.
The first foreign van we got here was the Dodge Sprinter around 2005, which would later become the Mercedes Sprinter when DaimlerChrysler dissolved. Soon after that, we got an Americanized Ford Transit and Transit Connect from Ford of Europe, and then came the rebadged Fiat Ducato and Doblo vans we know as the Ram ProMaster and ProMaster City, which were recently recalled due to a fire risk with the cooling fans.
But while all this was happening, Nissan was quietly out-American-ing the Americans, who were abandoning their old-school truck frame designs in favor of captured European imports, with its NV 1500, 2500, and 3500 vans. Nissan managed to combine the big, bulky, body-on-frame truck-based design familiar to Americans with the high-roof practicality of a European-style van, all while flying completely under the radar.
The NV ticks so many cargo van boxes, yet people seem to overlook them in favor of the Euro-style vans that dominate the competition. But the Nissan offers you the best of both big van styles, and if you need a used cargo van, it's the one you should buy.
Cargo Capacity And Cabin Space
Cargo capacity is obviously important for a commercial van, but what capacity you need will depend highly on what you want to do with it. Lucky for you, the Nissan NV gives you the choice of either a conventional low-roof design similar to the Chevrolet Express van and Ford's old Econoline or a high-roof design that North America first became familiar with on the Sprinter. The low-roof gets you 234 cu ft of cargo room and a maximum interior height of 4.6 ft, and it should fit in most public parking garages.
Taller people or those looking to get more vertical storage capacity should consider the high-roof option in the NV 2500 and 3500 models. It increases overall cargo volume to 323.1 cu ft and the max interior height to 6.4 ft. It will not fit in most public parking garages.
Crucially, the average person can comfortably stand up inside the cargo bay of a high-roof NV. The European high-roof style is the ideal configuration for a DIY campervan or a mobile workshop that would require you to do some of your work inside the van.
Another important and often overlooked part of a cargo van is the driver's cabin, and what it's like as a motor vehicle. According to reviews, the NV is remarkably comfortable, its heavy frame keeps ride harshness to a minimum even without cargo, and the front seats are reportedly very comfortable and made of durable fabrics. It drives like a conventional pickup truck, and the large mirrors more than make up for the massive blind spots inherent in a panel van.
It continues this pickup truck-like theme in the interior, with a column-mounted shifter and a dashboard layout that should be familiar not only to Nissan Titan owners, but it also bears a striking resemblance to a 2000s-era GM truck interior, just with much better plastics.
Most NVs came with some form of small LCD screen, if you're lucky you can find one with nav, but it's a standard double-DIN head unit that you could easily replace with something from the aftermarket if you're so inclined. This kind of simple ruggedness and basic ergonomics is unlike what you'd find in the front seats of a Transit or ProMaster, and thankfully this philosophy that extends far beyond the front cabin.
RELATED: 10 Sprinter Van Conversions We'd Give Up Our Homes To Live In
Engines – And More Importantly, Towing Capacity
The Nissan NV was (and still is) available with two engine options, a 4.0l V6 with 261 hp and 281 lb/ft or a 5.6l V8 with 375 hp and 387 lb/ft. This V8 will become a class-exclusive whenever GM finally pulls the plug on the comparatively ancient Express vans, but for now, it is the newest and the most powerful V8 in its class.
With the big engine, the NV's cargo capacity reaches a maximum of 3,850 lbs, and it can tow up to 9,500 lbs. On the used market, the only van in its class that can top that number would be a late-model Chevy Express with the 6.6l Duramax diesel V8, but good luck finding one that's neither overpriced nor carrying extremely high mileage.
9,500 lbs gives you a lot of flexibility in terms of what you can tow, and it puts the V8-powered NV in competition with serious hauling machines. If you were thinking of buying a pickup truck to tow your work equipment, your new boat, or RV (or your race car, if you're cool) but you prefer an enclosed cargo space, look no further than a Nissan NV with a V8.
RELATED: 2020 Nissan Titan Pickup Now Comes With 400-HP V8 Engine
Why The Long Hood?
The most common criticism of the Nissan NV is that it does not make optimal use of space within its wheelbase because of its long, truck-like nose and cabin mounted further behind the front axle than everything else in its class. This does reduce the overall cargo length compared to rivals with stubbier front-end designs, but it looks way more butch and, more importantly, it makes a world of difference when the time comes to service the engine.
Most vans have what's become known as a doghouse, a hump inside the cabin underneath the dashboard that usually extends in between the front seats. That's where the engine is kept because it cannot fit under the short nose. This makes servicing anything that isn't immediately accessible from the hood opening an absolute nightmare, but as you can see in the photo above, the Nissan's bulky front end avoids this problem entirely. It's no more difficult to work on than a Titan pickup truck.
The engine bay has acres of room, even with the 5.6l V8 shown, meaning that any servicing you need to do down the line will be much easier (and cheaper, if you're paying someone else for the privilege of keeping your hands clean) than a comparable Transit, Sprinter or ProMaster. It is also worth mentioning that the NV's engines are simple, robust and have so far proven to be reliable, which is not something you can necessarily say about the Sprinter and especially not the ProMaster.
While the long hood reduces overall interior space – a complaint Nissan could have addressed with a longer wheelbase option – we'd argue the trade-off of having an easily-accessible engine bay is worth it. If you absolutely need a longer van than this, just prepare yourself for the inevitable.
RELATED: 9 Greatest Nissans Ever Made (1 That Should Have Never Happened)
So, You Want One. What'll It Cost?
Nissan NVs are everywhere on the used market across North America. There are tons of them to be found in both low- and high-roof configurations, V6s and V8s, vehicles with towing packages, racks and storage cabinets in the rear, and so on. There's a wide mileage range too, from barely broken-in to astonishingly high.
You should reasonably be expected to pay $16,000 to $20,000 for a good one, but there are quite a few under $12,000 if you're not being too picky.
Fuel consumption will not be that good with either engine, though you should be expecting that given the size and weight of the vehicle. Its mechanical simplicity should more than compensate for the fuel cost, and peace of mind is becoming a lot more valuable these days.
Our ideal configuration would be a V8 high-roof with the towing package. If you're going to get an NV, you may as well get the most capable one money can buy.
NEXT: Check Out These Sick Custom Camper Vans
2022 Civic Type-R Renderings Offer Possible Sneak Peak
About The Author